Defenders of Potential
Big Brothers Big Sisters is not your typical organization. We help children realize their potential and build their futures. We nurture children and strengthen communities. And we couldn't do any of it without you.
Changing perspectives. Changing lives.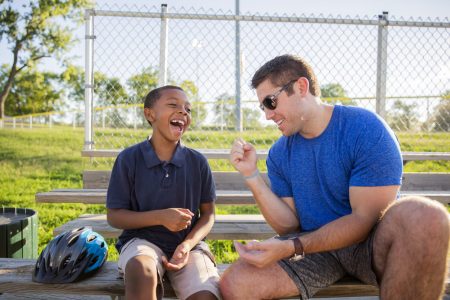 For more than 100 years, Big Brothers Big Sisters has operated under the belief that inherent in every child is the ability to succeed and thrive in life. As the nation's largest donor and volunteer supported mentoring network, Big Brothers Big Sisters makes meaningful, monitored matches between adult volunteers ("Bigs") and children ("Littles"), ages 7 through 14, in communities across the country. We develop positive relationships that have a direct and lasting effect on the lives of young people. 

The Big Brothers Big Sisters mission is to create and support one-to-one mentoring relationships that ignite the power and promise of youth. 
The Big Brothers Big Sisters vision is that all youth achieve their full potential.
Big Brothers Big Sisters partners with parents/guardians, volunteers, schools, donors and others in the community to be accountable for helping youth in our program achieve:
Higher Aspirations, greater confidence, and better relationships
Educational Success
Avoidance of risky behaviors
Our Programs Start Something
Here's the proof.  National research has shown that positive relationships between Littles and their Bigs have a direct and measurable impact on children's lives.  By participating in our programs, Littles are:
more confident in their schoolwork performance
able to get along better with their families
46% less likely to begin using illegal drugs
27% less likely to begin using alcohol
52% less likely to skip school.
Diversity and Inclusion
Heart of Illinois Big Brothers Big Sisters actively engages diversity, inclusion and cultural competencies throughout our organization. HOIBBBS serves an incredibly diverse constituency of adult volunteers, youth and families of the youth, donors, and partners.  It is paramount to achieving our mission to value diversity and practice inclusion amongst all of our stakeholders served by the organization.  In doing so, we recognize the strengths and challenges of diversity include but are not limited to –race, religion, national origin, color, economic status, gender identity or expression, sexual orientation, marital status, disability education, expertise, and socio-economic status.  The organization's staff and board strive to be representative of the constituencies we serve.
Contact Us
Heart of Illinois Big Brothers Big Sisters
1020 S. Matthew St.
Peoria, IL 61605
309.637.1771 - phone
[email protected] - email

Questions, technical issues, or complaints? Please contact [email protected].